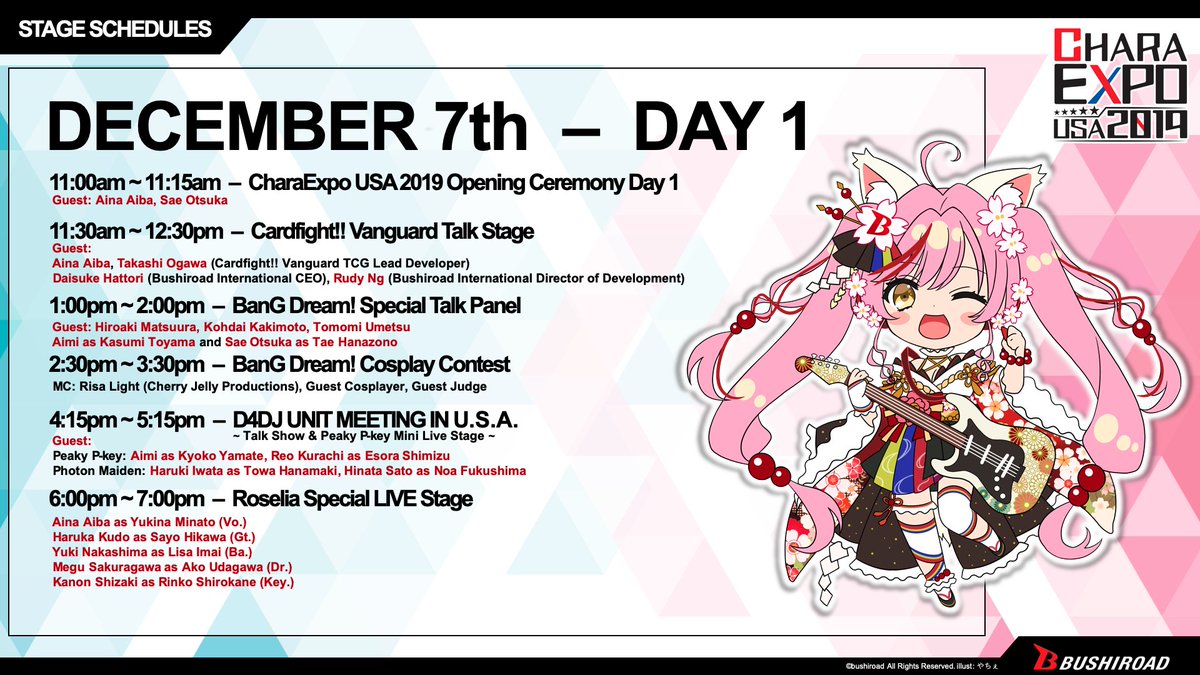 D4DJ is coming to CharaExpo USA 2019 in California!
CharaExpo USA 2019, being held at Anaheim Convention Center D Hall in California, will hold a D4DJ stage: "D4DJ Unit Meeting In U.S.A!"
The members from Peaky P-key: Aimi as Kyoko Yamate and Reo Kurachi as Esora Shimizu; and from Photon Maiden: Haruki Iwata as Towa Hanamaki and Hinata Sato as Noa Fukushima will be attending!
In addition to the talk show by the four members, there will be a Peaky P-key Mini-Live Concert!!
<Overview of D4DJ Unit Meeting In U.S.A>
Date: December 7th (Sat) 4:15pm-5:15pm (local time) 
Venue: Anaheim Convention Center Hall D in Anaheim, California at CharaExpo USA 2019
Performers: 
Peaky P-key
Kyoko Yamate by Aimi / Esora Shimizu by Reo Kurachi
Photo Maiden
Towa Hanamaki by Haruki Iwata / Noa Fukushima by Hinata Sato
Precautions:
It is required to have a paid ticket to enter CharaExpo USA 2019.
* Children 12 years old and under are free to enter.
* Children 12 years old and under will need a guardian accompanied.
* There are no exchanges or refunds.
* Attendees will need to purchase separate tickets for certain events inside the Event.
For Details on Purchasing tickets, please check the official website of CharaExpo USA 2019: https://www.charaexpo-usa.com/
CharaExpo USA 2019 Japanese website https://bushiroad.com/charaexpousa2019